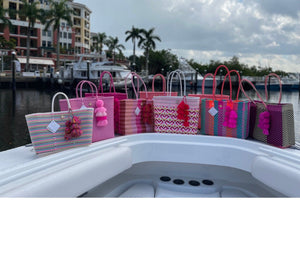 BeeLoved Everyday Everywhere you go!
CUSTOM ARTISAN HATS & BAGS
BEELOVED
BeeLoved Custom Artisan Bags, Hats and Gifts- A Curated Collection of beautiful and unique handmade gifts from Colombia, Guatemala, and Mexico. Custom Team bags can be made in your requested colors. Palm Hats and Bags can be made in custom sizes and colors. Luxurious gifts for Boating, Beach, Yacht, Pool, and Sports!
This section doesn't currently include any content. Add content to this section using the sidebar.
Boutique Shopping
The BeeLoved Artisan Collection is available now at
ShopModa Boutique in Winter Garden Village
Salty Cabin Collection Boutique in Sewall's Point
Chloe Lane Embroidery Downtown Orlando
handcrafted
Artisan made
Gorgeous handcrafted items from local artisans in Guatemala, Colombia, and Mexico. BeeLoved is proud to offer a one of a kind experience with unique prints and styles.